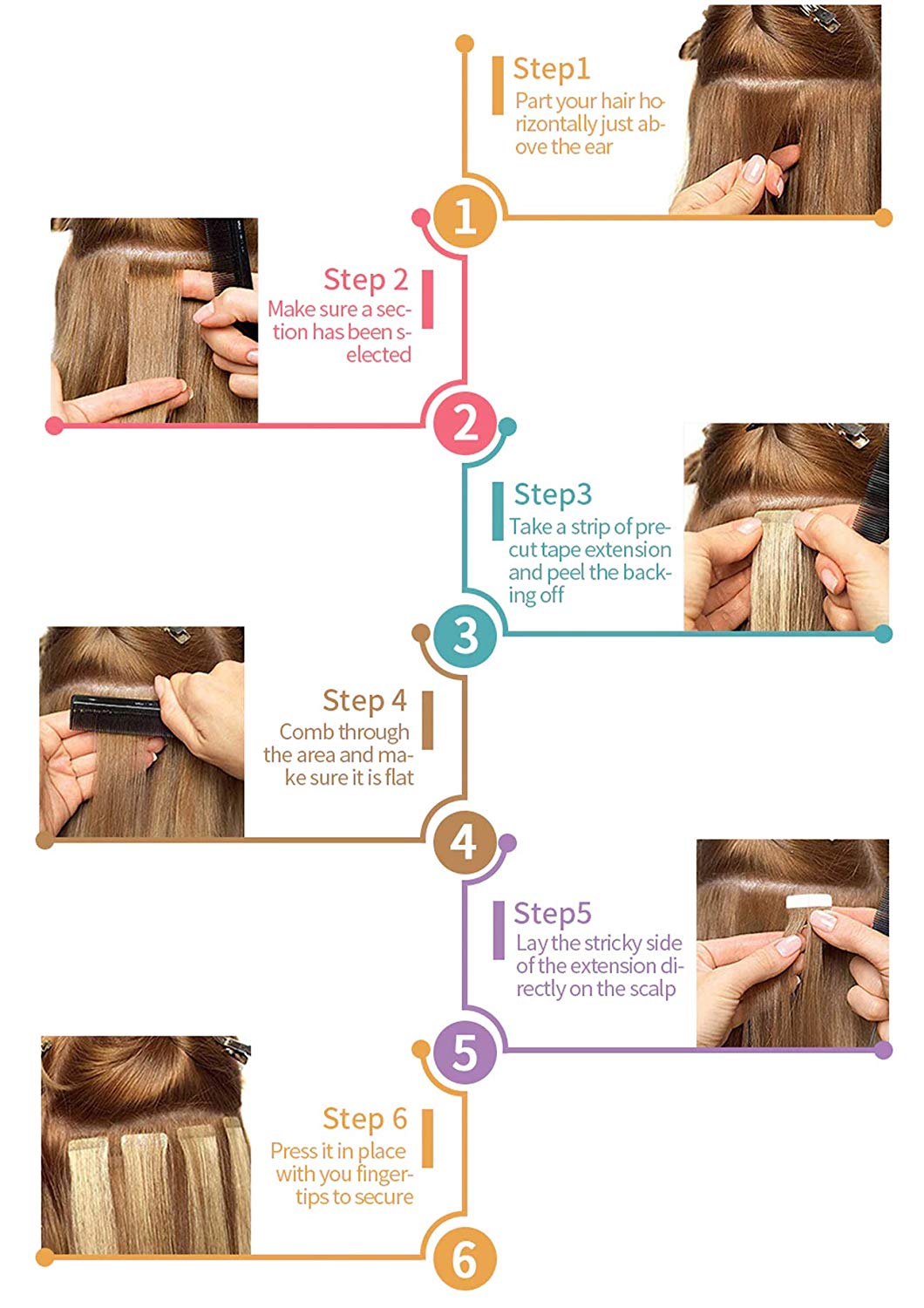 20 PC Set Dark Brown Real Human Hair Straight Tape Hair Extension For Women (65 gm)
Regular price
Rs. 4,500.00 INR
Sale price
Rs. 4,500.00 INR
Regular price
Tax included.
Product description
Shipping & Return
1.No Shedding, No Dropping: The Secret to Long Lasting Tape In Human Hair Extensions is High Quality Product That has Minimal Shedding. Our Tape Extensions are Made with a New and Advanced Anti-Shedding Technology That Allows Your Hair Extensions to Last As Well As Super Strong Tapes Used to Avoid Dropping After Installing

2.Ready for Styling: 100% Remy Human Hair With Finished Length 20 inches, can be Treated & Styled (Washing, Strengthening, Curling, Etc.) Like your Own Hair. But not Recommend for Dying Or Bleaching Since They Have Already Undergone a Chemical Process. We Recommend Getting Them Colored by a Professional and Experienced Hair Color.

3.Then color is an Elegant and Rich Shade, Which Will Blend with Most Mid-Tone Brown Hair Colors. This Shade has Some Red Undertones. We Have More Than 20 Colors. You Can Combine Colors to Create a Highlighted Look or a Multidimensional Look. Great for Those Who are in Between Shades and Want to Combine Colors
Color: Dark Brown Tape in extensions is not best for those who have lost a significant amount of hair due to any illnesses or for those that have extreme hair thinning .How to Care Your Tape in Hair Extensions:1.Use high quality hair care products but don't overdo it, too much hair care product can cause build up and tangling over time. So you need to be careful with the amount of product you use. Never use any products containing oil, alcohol or ethanol as this can damage the hair extensions and also wear down on the adhesive. Try your best to use sulfate free shampoo and conditioner as well as 100% natural hair products to keep hair extensions in good condition.2.When using hot tools be sure to use a heat protestant spray! The more you use heat on your hair, the shorter the life-span of the hair extensions.3.Do not use a flat iron directly on the tape tabs. This will weaken the bond and they will slip out.4.When using conditioner, condition from mid-shaft to ends only. Do not apply conditioner to your scalp when wearing tape in hair extensions.5.When using serums or oils avoid contact with the tape, use on mid length to ends only. We use natural products such as coconut oil on the ends of the extensions to keep the hair healthy and shiny over time .
It seems like you are providing information about your shipping charges and policies for Indian and international customers. Here's a breakdown of the information you've provided:

1. **Indian Make Products Delivery**: For products made in India, you offer free delivery for prepaid orders.

2. **Cash on Delivery (COD)**: For Cash on Delivery orders, you require 70% of the item's value to be paid in advance at the time of booking.

3. **International Shipping**: You use India Post for shipping to other countries. This service offers free delivery for orders below 2 kg in weight. There's a minimum order value of 2000/-, and volumetric charges may apply. The delivery time for international orders is 10 to 20 days, although you also mention the availability of other fast shipping services.

4. **Shipping Charges**: You note that shipping charges are subject to change and can be increased at any time. You reserve the right to cancel orders if needed.

5. **International Orders**: You request that customers interested in placing international orders should contact you before making the purchase. You provide contact options such as WhatsApp or a "Contact Us" button.

It's essential to have clear and transparent shipping policies to provide a better shopping experience for your customers. Ensure that these policies are easily accessible on your website or platform to avoid any confusion or disputes regarding shipping charges and delivery terms. Additionally, keep your customers informed of any changes to these policies to maintain trust and satisfaction.
"Return Policy Best Practice Advice:

When placing an order, it is advisable to follow these best practices:

1. Product Verification: Request confirmation of the product from the seller through a video call, recorded video, or images. This will allow you to visually inspect the product to ensure it meets your requirements.

2. Delivery Timing: Discuss and confirm the delivery schedule with the seller. Clarify any questions you may have about the estimated delivery date.

3. Payment Options: Choose a payment method that suits your preferences and is available on the seller's website. Ensure that you are comfortable with the selected payment option.

4. Product Customization: If the product offers variations in color or size, specify your preferences to the seller. Confirm that the chosen options align with your requirements.

5. Order Confirmation: Once you are certain that all aspects of the order match your requirements, proceed to confirm the order on the seller's website.

At the time of delivery, please ensure that the product's packaging is intact and not damaged. If you have any doubts or concerns, feel free to contact us via WhatsApp video calling at +918287652304. You can show us the label and unbox the product during the call, and we will work together to find the best resolution.

For your information, most of our products come from warehouses in India, the USA, or China. We cannot determine which specific product each buyer has ordered, and we do not offer cash on delivery for all products. Payment terms depend on the product and the delivery location. For example, products made in India and stored in an Indian warehouse typically have a delivery time of 3 to 7 days, with 70% available for cash on delivery. In contrast, if a buyer from the USA, Canada, or Australia orders a product made in India or China, the delivery time can range from 10 to 25 days, depending on the shipping address.

Please note that we accept returns for products that have not been used, washed, cut, or had their labels broken. We require a video at the time of delivery with the courier, and all shipping charges are the buyer's responsibility. Refunds or exchanges will be processed after the seller receives the returned product and completes an investigation. For more information or assistance with the claims process, please contact our helpline at +918287652304 or email us at ritzprimeshop@gmail.com."